Industrial Aluminum Profiles
YKK AP Indonesia manufactures and sells not only aluminum building materials for construction but also aluminum profiles used for a wide variety of purposes.
Based on the technologies such as mold design, aluminum extrusion, surface treatment, and processing cultivated in building materials, we will propose the realization of aluminum materials in the shape that customers can imagine.
If you would like to know about Industrial Aluminum Profiles first,
please feel free to contact us.
Benefits of Using Aluminum
Aluminum is one of the lightest metals that make products lighter, and since it is resistant to rust and easy to process, it is used in a variety of products, from everyday-use items to industrial parts, etc.
High Electrical Conductivity

High Thermal Conductivity

High Corrosion Resistance

Since it is easy to dissolve, it can be processed into various shapes.

Reflects Light and Heat Well
Various Usage Scenes of Aluminum
Due to its characteristics, aluminum can be used for diverse needs in a wide range of fields.
We support the production of various products with the expertise, high production capacity, and technological capabilities that YKK AP Indonesia has cultivated in building materials for construction.
For Various Purposes Such as Kitchen, Living Room,
Interior Products of Curtain Rails, etc.
Factory and Manufacturing Process
We have achieved high production capacity and can deliver high quality products through our integrated production system that melts and casts the raw material aluminum ingot, extrudes the profile, and even surface treatments in-house.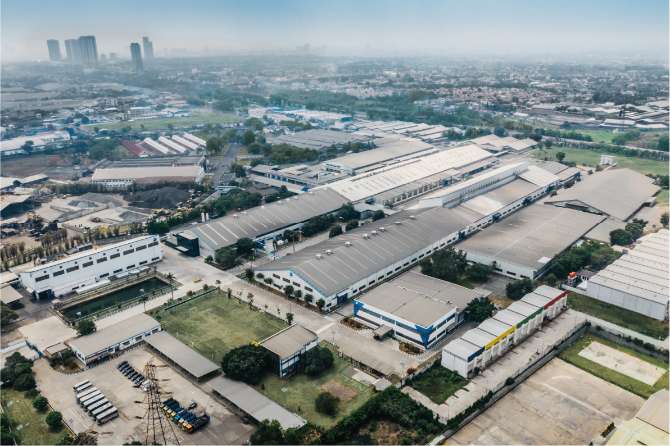 High quality and production capacity are realized by the integrated production system.
Step.1
Casting
The raw material aluminum bullion is put into the melting furnace and melted. After degassing, it is poured into a circular mold and cooled in a pool to produce a cylindrical ingot "billet".
The finished billet is heat-treated in a continuous homogeneous furnace.
The metal structure is then homogenized for ease of extrusion in the next "extrusion" process.
Step.2
Extrusion
Heat the billet to about 500°C and set it in the extruder. By pressing it against the mold with high pressure, an aluminum profile with a length of about 50 to 70 m is extruded. Depending on the design of the mold, it is possible to make various shapes such as hollow materials and complicated cross-sectional shapes.
Cool the extruded profile. Then, a slight distortion is pulled from both ends to correct it and cut it to the specified dimensions.
After that, heat treatment is performed to increase the strength required for the final product.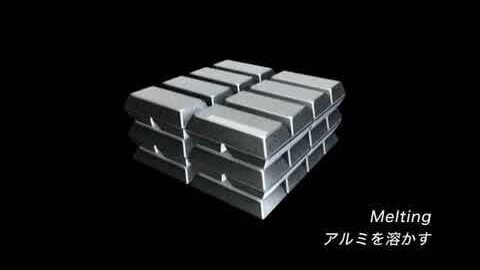 Step.3
Surface Treatment
By immersing the aluminum profile in various liquid tanks, oil and fine scratches are removed.
Corrosion resistance and wear resistance are improved by alumite treatment that forms a film on the surface, and coloring and painting are performed.
The video below explains the process of forming an oxide film on the surface in the electrolytic solution → depositing a metal salt in the pores of the film in the coloring solution → forming a coating film in the paint.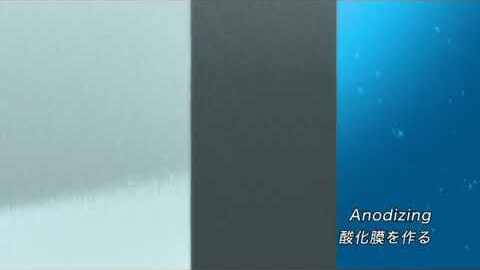 Manufacturing Range and Handling Alloys
Please check the maximum circumscribed circle diameter and the alloys handled in the table below. We support a wide range of manufacturing.
Maximum Circumscribed Circle Diameter
Solid
Hollow
Shape

Rectangle

Square

Rectangle

Square

Circumscribed
circle diameter
* [mm]
* The maximum circumscribed circle diameter may vary depending on the cross-sectional shape of the profile, so please consult with us each time.
* We may consider conditions other than the above.
Handling Alloy
Alloy Type
Alloy Name
Temper
Tensile Strength [N/mm2]
0.2% Proof Stress [N/mm2]
Elongation [%]
JIS
YKK AP
(Internal)
JIS value
Central Value
JIS value
Central Value
JIS value
Central Value
6000 series
6005C
YS6005S
T5
Over 245
270
Over 205
240
Over 8
11
6063
A6063S
T5
Over 150
235
Over 110
210
Over 8
11
* In-house representative figures are actual measurement data and are not guaranteed.
Aluminum Generic Extruded Profile
We provide aluminum generic extruded profiles and materials (generic profiles and generic types).
Since it is made to order, we will ask for a minimum lot and some delivery time, but please feel free to contact us if you are using more profiles than usual or if you are considering using extruded aluminum profiles for the first time.
Generic profiles are extruded aluminum profiles that are versatile, such as squares and circles. We have many types and sizes of molds.
Please feel free to contact us as we will propose it in response to your inquiry.
Shape Example
Solid Profile
L-shaped Angle (Equal Sides)

L-shaped Angle (with R)

L-shaped Angle (Unequal Sides)

U-shaped Channel

Flat Bar

Square Bar
Hollow Profile
Round Pipe

Square Pipe (Square)

Square Pipe (Rectangle)
* Please contact us for the details of your desired size.
* We do not hold product stock. It will be made to order.
→ The standard delivery time is 30 days after receiving an order. (Please contact us for details)
→ There is a minimum lot (350 kg/order, 1Pallet).
* We can also propose shapes other than the above.
Color Example
Anodized Coating Composite Film
If you would like other colors, please contact us
Contact Us
We will propose the most suitable products according to the customer's request. Please feel free to contact us for details.
Consultation Regarding Purpose and Application

Details of Manufacturing Range and Handling Alloys

Shape and Finish Details

Consultation on Production Quantity and Price